STEEL & COATING
There are many steel types available but only a few meet the complex design and functional requirements of tablet tooling. Material selection must always be considered alongside good tablet design for strong punch cups and punch tip edges.
H13 Steel
Hot work tool steel with high level of resistance to thermal shock and fatigue, excellent hot tensile strength properties, high hot wear resistance, good machinability and polishability, fine grain size with high level toughness, dimensional stability, extra fine structure without grain boundary carbides, nitridable, admits water cooling and contains low phosphorus and sulfur content.Used for punches only.
S7 Steel
Is an air or oil hardening tool steel that is characterized by very high impact toughness. The combination of strength and high toughness makes it a candidate for a wide variety of tooling applications. It can be used successfully for both cold and hot work applications.Used for punches only
S1 Steel
Oil hardenable, medium carbon with tungsten alloyed shock resistant cold work tool steel, high resistant to impacts with excellent toughness and wear resistance, high fatigue strength, good edge holding ability, high hardenability and dimensional stability.Used for punches only
D2 Steel
High carbon and high chromium, ledeburitic 12% chromium alloyed cold work tool steel, excellent abrasion resistance due to a large volume of carbides in the microstructure, high cutting ability with edge holding properties, high compression strength, excellent deep hardenability and toughness properties, dimensional stability during heat treatment, high resistance to softening at elevated temperatures. Suitable for nitriding and electrical discharge machining.Used for punches and dies
D3 Steel
High carbon and high chromium, ledeburitic 12% chromium alloyed cold work tool steel, high compressive strength, fairly good dimensional stability during heat treatment, extremely resistant to wear against abrasive and adhesive, low distortion, deep hardenability, non-deforming, medium toughness and good edge holding properties. Not suitable for nitriding and electrical discharge machining.Used for dies only
CPM15V Powder Metallurgy Steel
A specialist powder metallurgy grade steel with uniform carbide distribution and small carbide size giving extremely high wear resistance over and above that of premium steel. Used for punches only.
440C Steel
Material has a really good capability of getting hardness and it can be hardened up to 57 - 60 HRC. It containes ~%1.05 carbon element and because of high carbon, this grade is a bit brittle and high carbon effects the corrosion resistance as well. Excellent corrosion resistant properties.Good polish-ability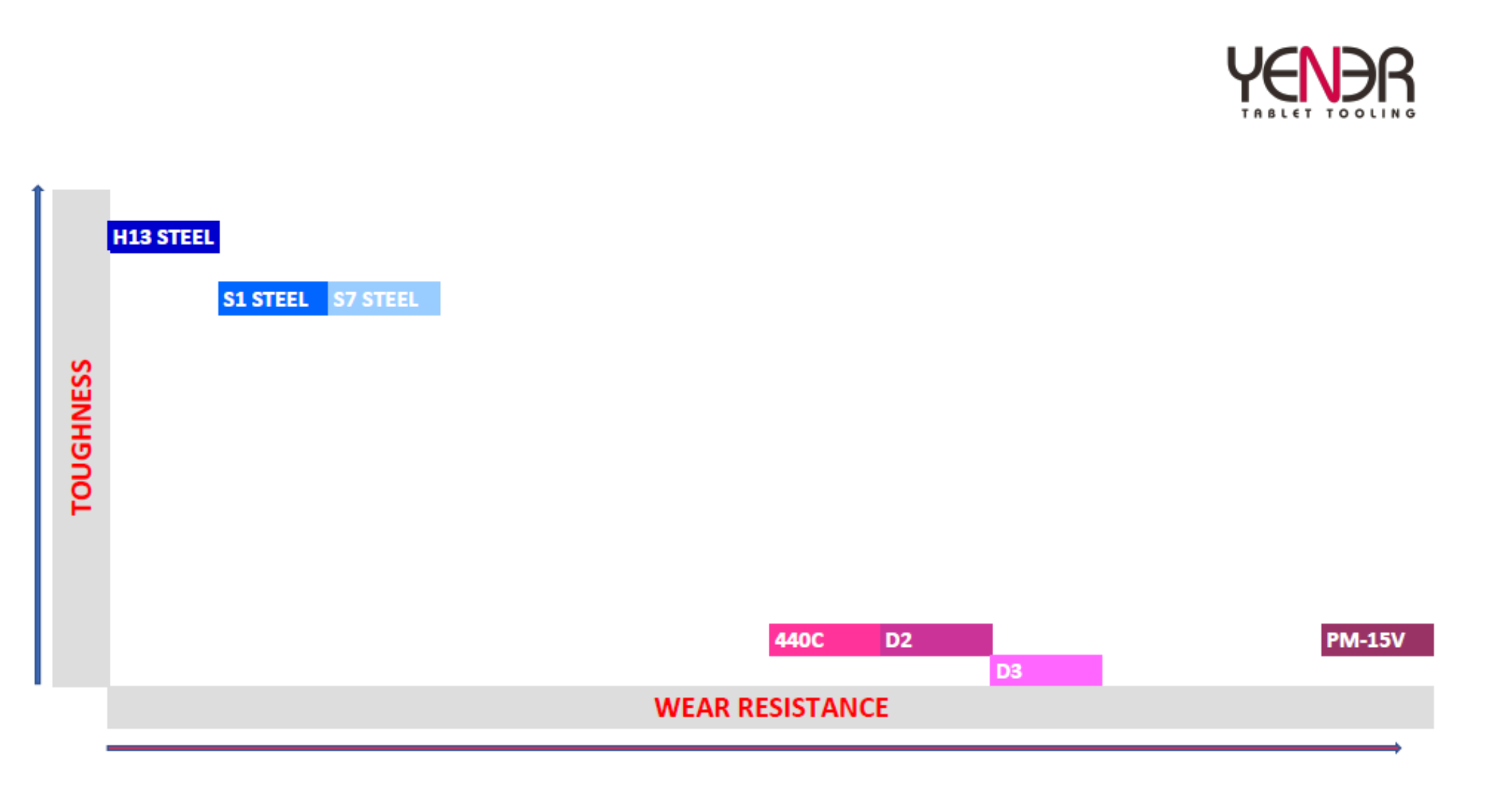 Coating
MoldMate/ToolMate CrN series of PVD hard coatings produced by have multilayer structure of CrN layers. They are applied to various industrial tools and molds used for different production applications. Coat-ings are produced by evaporating pure Chromium and/ or Zirconium metals and reacting with pure nitrogen in a perfectly controlled vacuum PVD coating system. Thickness of the coating varies between 0,5 to 10 μm for different applications, and those thin coatings do not change production tolerances of the tools and molds.
Moldmate/ Toolmate CrN has and hardness of 3100-3500 Hv and has a very dense and compact structure. It has extreme wear re-sistance and do not leave any wear debris during operation of tools. It is chemically very inert and does not react with drug components, does not absorb any material in liquid or solid form and can be easily cleaned after operation. By having a low friction coefficient of 0,35 and perfect surface quality, CrN prevents sticking and adhesion of drug materials which has tendency to stick over tool
Chemical Properties Base layer of CrN is Chromium Nitride-CrN (CAS# 24094-93- 7) having metallic grey colored and no odor. It is non-volatile non-flamable, insoluble in water and organic solvents and only slightly react with strong inorganic acids and strong oxidizing agents.
Health Effects Both ZrN and CrN components of Moldmate/Toolmate CrN are listed as not having any specific known hazards to health, is not specifically listed as carcinogen and both coatings have application in drug and food industries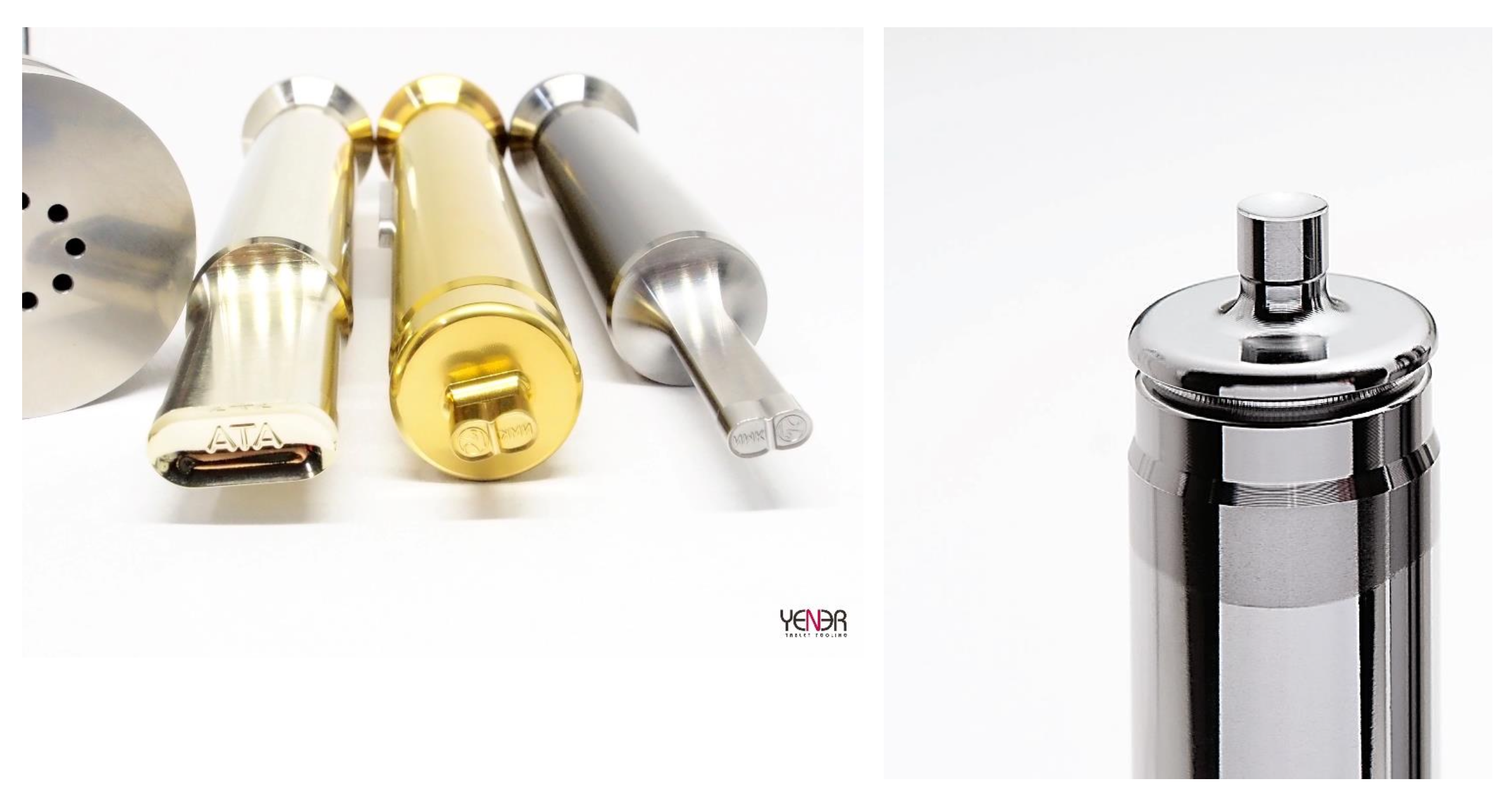 Dust Seal
Prevent contamination in your dust seal grooves...
Now, you can keep oil and debris out of your granulation with Yener's dust seals. We highly recommend using dust seals with your punches. While they are an optional accessory, their benefit far outweighs their price. You'll also be able to interchange and reuse.
Provide a secondary barrier to the upper punch seals
Prevent oil and other debris from contaminating granulation
Ensure production runs smoothly and cut back on cleaning time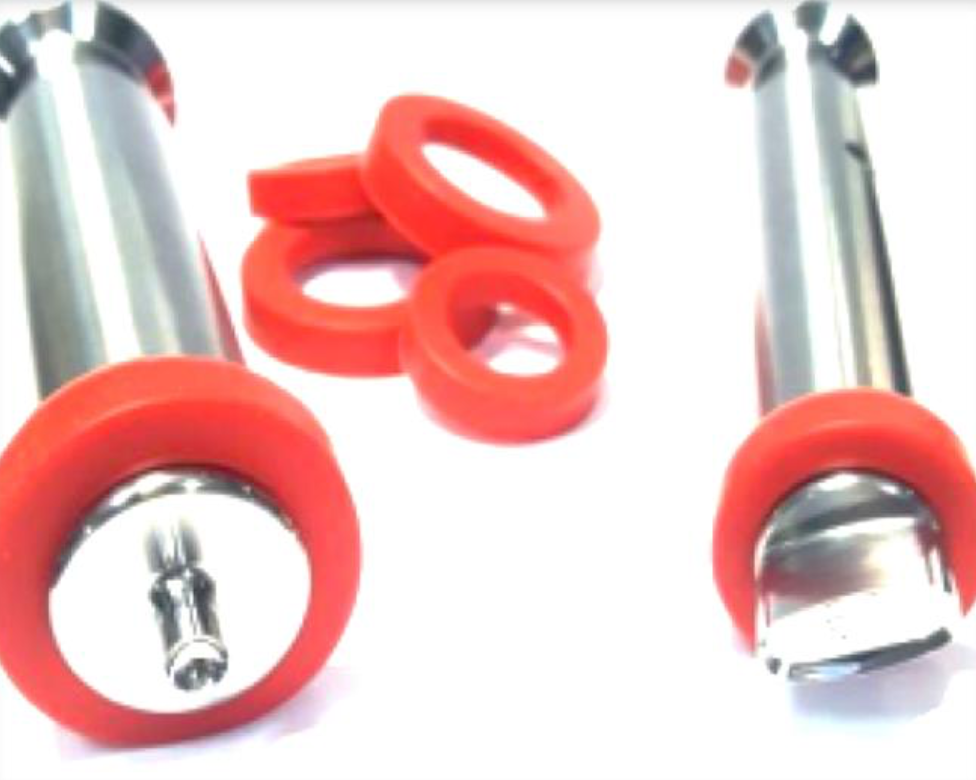 Tool Storage
The easiest and safest way to store and transport punches and dies. Outside dimensions : 45cm L x 27cm W x 18cm H Weight : 3kg Capacity: "B" tooling : 72 Punches, 36 Dies "D" tooling : 48 Punches, 24 Dies • One piece seamless constraction • Easy to clean • Easy to carry • Molded keyways, keep punch barrels and tips separate • Molded support heads elevate tooling for easy removal • Both "B" and "D" sizes available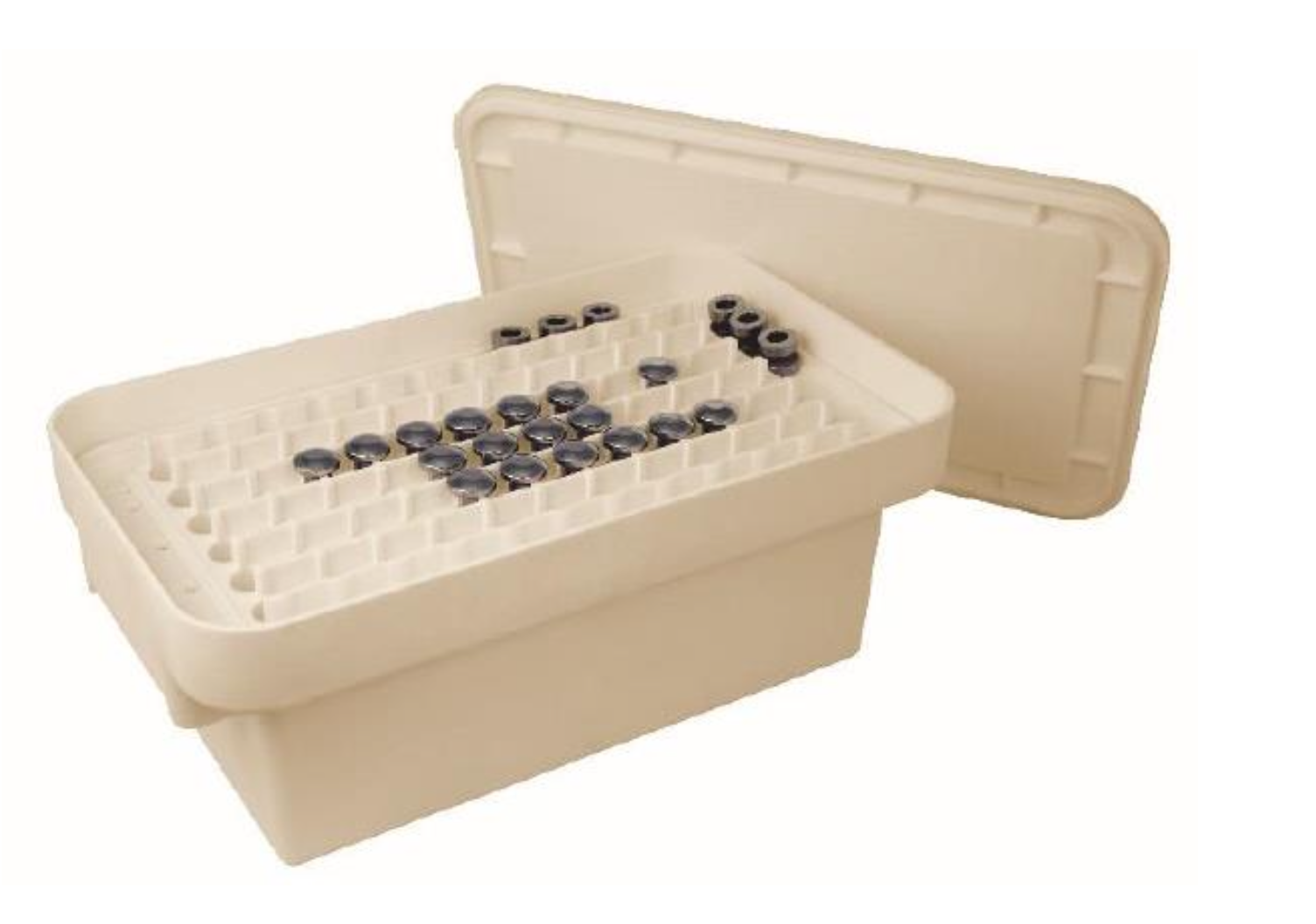 Die Alignment Tool
The Die Alignment Tool is used to accurately locate and align a multi, shaped even round die into the die table.Traditionally the upper punch has been used to perform this operation, however this is not recommended because the clearance between the punch tips and the die bores will allow for misalignment.Using the upper punch may also result in damage to the punch tip edges.The Die Alignment Tool has much less clearance, hence a tighter fit in the die, resulting in a more accurate positioning of the die bore relative to the punch tips.

PROBLEM SOLVING
Punches and dies are special tools and damage easily, because of that very good care must be taken when cleaning, transporting and storing.Punches and dies should be cleaned and dried properly .When tooling required to be shipped they should not be shipped in storage boxes which is not suitable for transport. Yener Kalip offers number of solutions for common tooling problems, such as;sticking,picking,corrosion,wear, abrasion etc.